GreenMax in Chinaplas
CHINAPLAS 2014 international plastic trade show has been finished in Shanghai on April 26.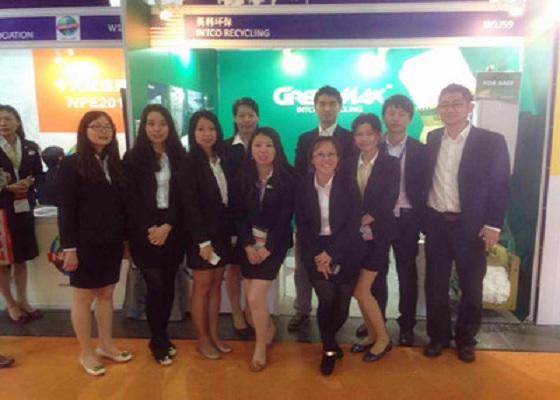 The Asia's largest international plastic trade fair displaying at April 23-26 successfully held in Shanghai. Four days' exhibition attracted 130370 visitors. Compared with last year in Guangzhou, it has 14.26% of substantial growth, also hit a record high since the first run since 1983.Along with the internationalization of the exhibition, gradually improve, the overseas audience jumped 19.73% to 36841 people, accounting for 28.26% of the total. They came from 143 countries and regions, mainly from Hong Kong, India, Indonesia, Iran, Japan, Korea, Malaysia, Taiwan, Thailand, Russia and other places. Domestic audience figures also show the ideal for a total of 93529 people, growth of 12.24%.
For the encouraging Numbers, the exhibition organizers Liang Yaqi of adsale exhibition services co., LTD., said: we are very glad to see the success of the exhibition and the positive feedback of the exhibitors and visitors. The rise of overseas audience reflects the international status of CHINAPLAS, and obtains approval from all over the world, regards as the exhibition industry procurement and effective platform to get the latest market and technology trend information. At the same time, from China, Asia and Europe's leading enterprise offers many cost-effective solutions. The audience can see from the exhibition, find and get the information and technology to meet changing business needs, and help them maintain their competitive advantage.
In addition, the exhibition's scale and the number of exhibitors also refresh the record, the exhibition area of more than 220000 square meters, breaking all previous records. More than 3000 exhibitors from 39 countries and regions, more than 400 exhibitors exhibition for the first time. This exhibition in addition to the Shanghai new international expo center all 17 pavilions, more in the center of the expo organizers set up 13 outdoor pavilion and the central square of 6 for the first time to set up independent booth to meet demand.
GreenMax compactors from INTCO recycling applied for the show as a professional exhibitor and obtained good results.