Intco Will Participate in 2015 POL-ECO-SYSTEM in Poland
POL-ECO-SYSTEM in 2015 is a merger of 4 trade fairs. Therefore, it has become the largest event in Poland, not only committed to the introduction of innovative environment friendly products and ecological solutions, but also a good platform to share the knowledge and experience of environmental protection. It is an important platform for enterprises to display new products, exchange new technologies and test new products. It is a good chance for our Green max to develop new customers, expand the market and build up the brand of enterprise. POL-ECO-SYSTEM provides a rare opportunity for Intco environmental protection machinery to the develop Poland and the European market.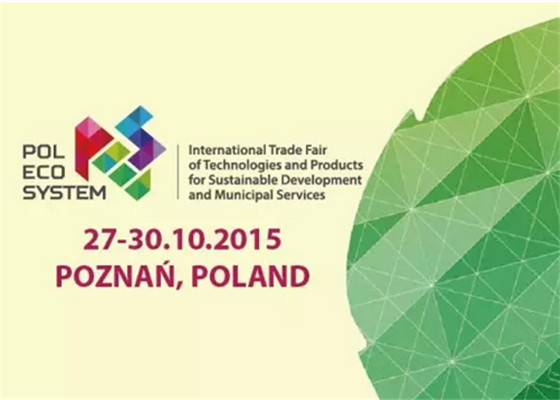 Industries of the audience are as follows:
Representatives of local government, military departments, municipal enterprises
Plant utilization industry
Waste disposal plant, water supply and waste water treatment plant, soil improvement factory
Energy facilities, cogeneration plant, power plant
Highway and Municipal Green Committee
Real estate administrators and housing cooperatives
Farmers and forest farmers
Sports Facilities Manager
The biggest production enterprises and factories
Intco Green max environmental protection machinery also participated in the exhibition last year.
This year, we are about to start a new journey to Poland. Our agent in Poland will come back. The exhibition will plays a promoting role in many aspects directly on the development of GreenMax foam recycling business.
POL-ECO-SYSTEM can maintain or establish the corporate image of Greenmax machine. Our company will expand the field of vision, open ideas, learn advanced, exchange and cooperation with each other, and make full use of this opportunity to visit customers and dealers and communicate, negotiate, to further expand the company's visibility and influence in the industry, but also to further understand the characteristics of advanced enterprises, so as to better improve our product structure, play our own advantages.
INTCO is an EPS Recycling Specialist, providing total solution to polystyrene recycling and
Styrofoam recycling
.As a brand of Intco environmental protection machinery, GreenMax plays attention to reduce the EPS foam volume by cold pressing or hot melting method, so as to save the transportation cost; at the same time, Intco environmental protection also purchases back
compressed EPS
scraps, and reuses them to make frame products.