GreenMax compactors for EPS recycling
INTCO is an EPS Recycling Specialist, providing total solution to polystyrene recycling. We manufacture and sell GreenMax compactors, purchase back compressed EPS scraps, and reuse them to make frame products.

Our factory in Zhenjiang is in charge of the producing of our GreenMax machines. Established in 2008, GreenMax compactor was originally designed for EPS compacting only. As a base model, APOLO series was launched into the market especially for EPS since GreenMax brand was established. With 5 years' accumulative innovation, current APOLO can process most PS foams including EPS, XPS and PSP.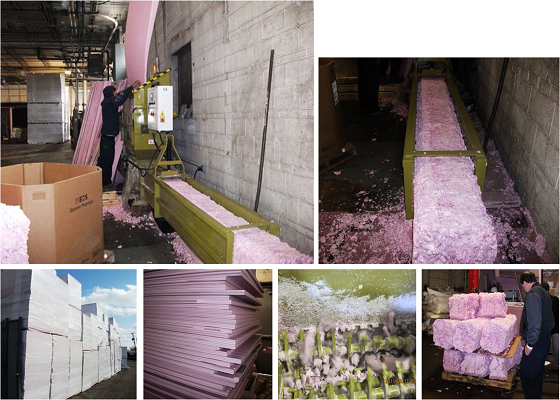 The applicable material for APOLO series would be EPS, XPS and PSP. We can compact the waste expanded polystyrene into eps blocks. The compressed density is 200-400kg/m3. And the block size is 380*380.

The GreenMax ZEUS series was recently developed in 2012 and upgraded from APOLO , aiming to process a wider range of foam type materials, such as EPS, EPP and EPE.

GreenMax POSEIDON series was designed to compact kinds of packaging or containers. Such as: PET bottles, Aluminum cans, paper cartons by tetra-pak and yogurt.

All our compactors are in high quality and low price.

1. SIEMENS control system makes machine operation much easier and simpler.

2. High-quality components made by reputable manufacturers SIEMENS, PHOENIX, SCHNEIDER, etc.

3. Screw compression technology enables continuous output at a ratio of 8:1 , high density , high security and low utility consumption.

4. Water draining function squeezes out any liquid in the bottles to the water collection tray under the machine.

5. CE approved, UL/CSA standard.