The USA Furniture- Top-Line Furniture Corp. Adopts GREENMAX Styrofoam Densifier to Improve Styrofoam Packaging Recycling Efficiency
Top-Line Furniture Corp. was established in 1995 as a furniture distribution company servicing independent stores. They swiftly expanded their operations to include thirteen distribution points across North America and multiple warehouses located internationally. In the late 90s, they began pursuing top 100 retailers and now serve several of the top brick and mortar retail companies in the U.S. and Canada, well-known companies in the industry, such ad ASHLEY, THE ROOM PLACE are their customers. With the rapid growth of business and expansion of business scope, some repaired furniture will be packaged in Styrofoam from time to time. When the number of these Styrofoam scraps and used Styrofoam packaging materials was relatively small before, they were collected by local Styrofoam recyclers.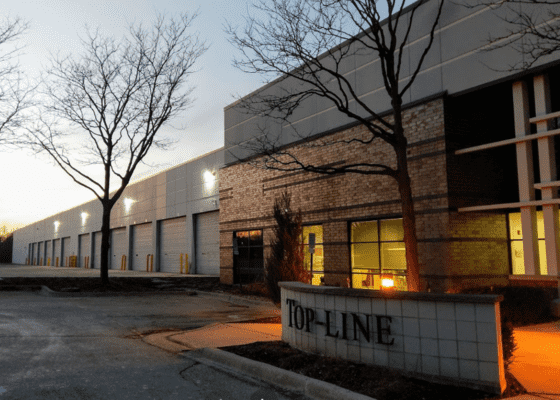 However, with the increase of business, the volume of Styrofoam packaging materials is increasing. Top-Line Furniture has a large number of waste Styrofoam packaging materials during the distribution process and managing such materials is quite difficult for them.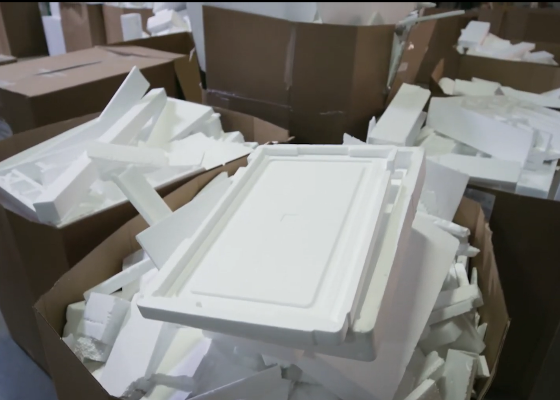 Top-Line Furniture has been committed to recycling and environmental protection and started recycling CARDBOARD a few years ago.
When they found that the amount of Styrofoam packaging materials has increased, as a company practicing the concept of environmental recycling, the Top-Line Furniture team realized that they must find new solutions. At the same time, the social responsibility department of Top-Line Furniture also noticed that most of the Styrofoam packaging treatment methods in their communities were landfilled, and Styrofoam scraps are not only large in size but also not easy to decay and decompose after being buried for a long time. In addition, it is a type of garbage that takes up landfill resources. In recent years, Top-Line Furniture has been committed to environmental protection and the improvement of the surrounding community environment. Therefore, they are fully aware of this problem and the necessity to recycle Styrofoam packaging materials. In order to solve its own high operating costs and Styrofoam disposal problems, Top-Line Furniture is looking for a professional Styrofoam densifier. In the meantime, Top-Line Furniture learned that an American brand company -- GREENMAX(which belongs to INTCO) is the only Styrofoam packaging recycling specialist in the world which can provide a totally recycling service to the waste Styrofoam.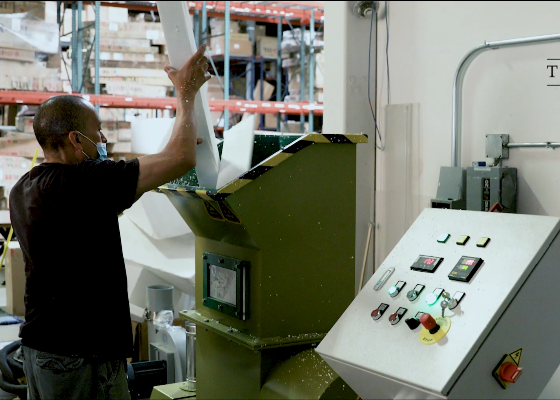 GREENMAX, Offered by INTCO Recycling , has served the local large furniture retailers such as ASHLEY ROOM PLACE and other, providing a complete set of Styrofoam solution. GREENMAX is also the world's leading recycling company that supplies total solutions to Styrofoam packaging recycling. The company offers professional GREENMAX Styrofoam densifiers, which have helped hundreds of American companies solve Styrofoam recycling problems. After discussion, the team of Top-Line Furniture unanimously agreed to establish cooperation with GREENMAX after deep market research.
The Styrofoam packaging recycling solution and after-sales service of GREENMAX can effectively help Top-Line Furniture solve the current problems. And Top-Line Furniture very recognized the environmental protection solutions and concepts of GREENMAX, so they decided to order the GREENMAX Styrofoam densifier M-C50 for Styrofoam packaging recycling pretty soon.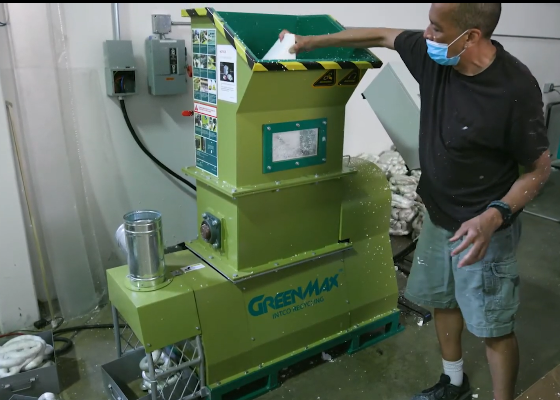 At present, Top-Line Furniture has received the GREENMAX Styrofoam densifier for more than a month. It only needs to run for one day a week to solve the amount of Styrofoam materials one week. At the same time, it also helps the community solve the headache of Styrofoam packaging recycling. The operation of the GREENMAX machine is simple, and even the delivery drivers of Top-Line Furniture can operate the Styrofoam densifier.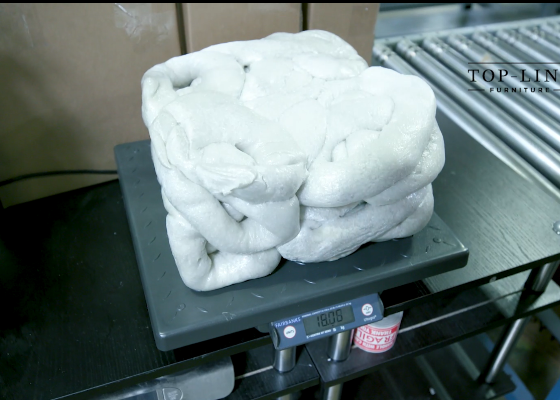 GREENMAX can provide Styrofoam packaging recycling solutions and is willing to buy back all the compressed Styrofoam blocks at a good price. Because INTCO will use Styrofoam scraps to produce decorative frame products. We thank the Top-Line Furniture team for their social responsibility and their contribution to environmental Styrofoam recycling.
GREENMAX is honored to cooperate with Top-Line Furniture to contribute to global recycling.