The Waste Foam Packaging To Save Your Storage Space?
The answer is absolute: Not really.
Here is a story of Living Space, the biggest furniture manufacturer in United States West Coast, which can give you a convincing explanation.
In December, 2016, one set of GREENMAX recycling machine has been conveyed to one location of Living Spaces, in Silicon Valley, USA. After installation and commissioning, now the machine is under successful operation, which helps Living Spaces to solve their difficult problem of disposing large number of waste EPS/Styrofoam furniture packaging.
Have you ever experienced the same problem that there's no enough room to store waste foam packaging? The biggest furniture company in the West Coast of the United States—Living Spaces, has ever encountered this problem.
(Silicon Valley, USA)
Living Spaces has 18 locations in the United States, so it has a huge number of waste foam packaging. For lacking of recycling concept, they used to offer their foam packaging to the local recyclers for free. As the market flowed, the recyclers started to ask for money to help them get rid of these wastes. Actually it was an unnecessary cost before they learned about a profitable recycling method which could solve the problem of lacking of space to store foam packaging materials.
The foam packaging materials are commonly called expanded polystyrene (EPS) or Styrofoam. It is an ideal packaging material. According to different requirements, it can be processed into a variety of shapes and different thickness through the molding process. And since it is fully expanded, with almost 98% air, it has a good characteristic of shock resistance.
This also leads to its disadvantage. A small quantity of expanded polystyrene occupies a lot of space. What's worse, this material is non-degradable, which means it is a bad way to throw them away casually or make them landfilled. For such a large furniture company with many chain stores, it will cost a lot either to store the waste foam packaging or transport them to be disposed.
Companies which has the similar situation may have the same problem. But may you wonder how to solve this problem with the least cost?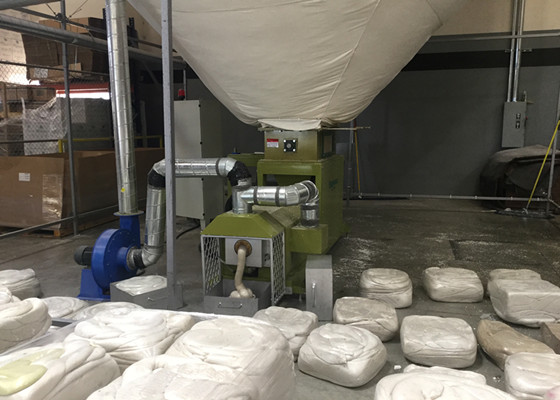 Just turn to GREENMAX (belong to INTCO Recycling) for help. Just like Living Spaces did. It bought one set of GREENMAX Mars C300 large melting machine system in March, 2016 as its first attempt of disposing waste packaging by itself. Then in the fourth quarter of 2016, it ordered another two sets of M-C300 for their other locations, one of which was just transported to the Silicon Valley for use.
(Los Angeles, USA)
The best required GREENMAX Mars Series Melter can not only help you solve the problem of lacking of storing space, but can make you get out of the adversity of paying money to dispose the foam packaging.
(Phoenix, USA)
GREENMAX Melter can make this come true, since the machine itself doesn't occupy too much space and it can melt the foam packaging at a ratio of 90:1. For example, if you put 90 m³ of waste foam into the melter, you will have only 1m³ of ingots after melting. The melted ingots can be easily stored by piling up on the pallets.
Apart from that, this recycling method actually offers Living Spaces a new approach of profit too, because INTCO Recycling has the business to purchase back the melted EPS ingots with high price, which can be used to make recyclable frame products such as mirror frames. In this way, Living Spaces can make money from these waste EPS packaging, which were treated as trashes in the past.
Until now, there are many other companies similar to Living Spaces in the United States having already cooperated with GREENMAX. And viewing from globally, more than 500 GREENMAX machines have been sold to 68 countries and regions since the brand establishing year of 2008. This is not only thanks to GREENMAX machine's high quality and perfect customer service, but also the complete EPS recycling solution that INTCO Recycling offers.
Now if you want to know more about GREENMAX, welcome to get more information.