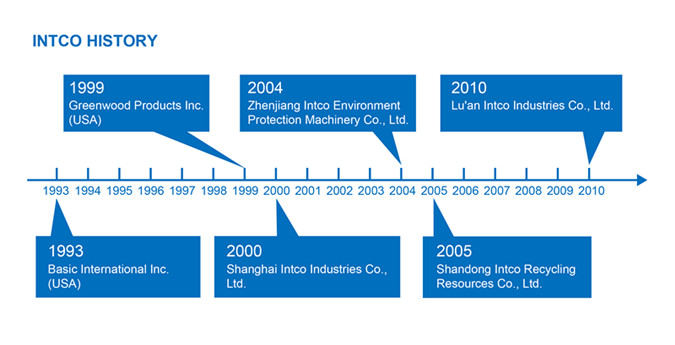 1) Our American Headquarter was founded in 1993 in California of USA and now was renamed as Basic International Inc. Our products included disposable synthetic gloves used in medical or food industries, it has already taken up 20 percent market share of the same product in USA when the company was registed.

2) In 1999 we set up Greenwood Products Inc in USA, it's engaged in the sale and service of molding and frames art products, also in mirror, glass and other fittings.

3) In 2000, we adjusted and extended our developing strategy and profiting mode. We strengthened the developing strategy of trade improving industry and industry promoting trade, and set up Shanghai Greenwood Decoration New Material Co., Ltd in Shanghai Fengxian (now renamed as Shanghai Intco Industries Co., Ltd.). We provide a styrofoam recycling solution and reuse waste EPS to produce molding and frame art products and all are sold in America and Europe.

4) At the end of 2004, we set up Intco Metal Products (zhenjiang) Co., Ltd (now renamed as Zhenjiang Intco Environment Protection Machinery Co., Ltd.) We build efficient R&D, installed automatic producing instruments and assembly lines, improving the quality and professional service to match the needs of international market.

5) In 2005, we expropriated 2.5 million square feet of land in Zibo, Shandong province of China ,and set up Shandong Intco Recycling Resources Co., Ltd. Shandong Intco uses Waste EPS to produce macromolecule epispastic molding, photo frames, picture frames, mirror frames and other related products. All products are sold in America, Europe and other foreign markets.
6) In 2010, we set up Lu'an Intco Industries Co., Ltd. Lu'an Intco reuses Waste EPS to produce photo frame, picture frame, mirror frame and other related products. All our products are environment friendly and most of them will be sold to oversea markets.


The improvement, grandness and success of Intco today belongs to every staff's excellent efforts, also it is owed to the support and belief of our customers. Intco will try our best to satisfy our customers by providing competitive price, high quality products and best professional services.