GREENMAX Polystyrene Screw Compactors
Since 2007, GREENMAX has specialised in the most efficient and energy-saving type of compacting screw compactors.

The principle of GREENMAX polystyrene compactor is to use a helical compression mechanism to compress EPS foam into blocks. And the advanced Styrofoam recycling machine will attend in K show 2016 in Germany.

In use, the operator as long as put the foam block into the hopper, the machine shred the foam block, then screw them into small pieces of EPS foam, extruded into compressed EPS block. The total amount of EPS and the materials flow are significant for the choice of compactor and accessories required.
The machine can be placed at the end of a conveyer belt that in other way be fitted to the intern flow in the facility. According to the characteristics of the material, the compression ratio is up to 50:1, in order to achieve the purpose of reducing the volume of EPS, to facilitate storage and reduce the cost of long-distance transport.
Foam recycling machine types

Compressing type
Styrofoam compressing machine, screw directly on EPS foam extrusion pusher, GREENMAX does not add heat to the process. The polystyrene compactor will appeared in the 2016 K show in Germany, the ability to handle EPS foam is 13.6 ~ 18.4kg / h, GREENMAX Styrofoam compactor has a capacity of 200 kg per hour.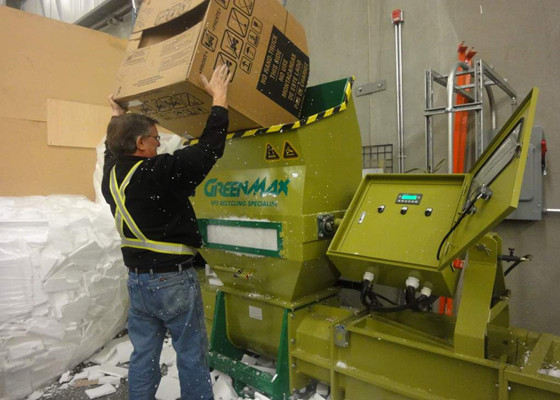 Plastic shredder type
Plastic foam shredder, mainly used for a variety of plastic material such as EPS, EPE,EPP, PUR and so on. It is different with hot melt and cold compress type recycling machine, foam crusher is characterized by machine blades, so that they can shred the material intco 20-50 mm size small pieces.
Hot melt type
GREENMAX foam densifier type, is similar to the extruder feeder, after melted material, extruded out from the discharge port, Styrofoam densifier increased a heater than foam compactor, need to increase one or more heating module. GREENMAX foam melting machine can help you to reduce the volume of EPS waste up to 90:1.