INTCO can provide plastic recycling machine and purchase compressed material
Polystyrene is used to make products from food storage containers to household products. Polystyrene blocks and packed peanuts are also used as the most popular materials for transport and packaging. While manufacturers continue to use these products in large numbers, many people worry about that the waste polystrene will affect the environment. Concerns about the pollution and disposal have led some companies to develop polystyrene recycling technologies, including broken, dissolved or reused materials to produce new products.
Polystyrene foam products, including insulation and packaging materials, can be recycled to used as new building materials. The manufacturer crushed the polystyrene into small pieces and added it to the concrete mixture to enhance the insulation properties of the concrete. Another form of polystyrene foam recycling is to melt these products and pour them into the mold to form new products. For example, some manufacturers use petroleum-derived thermoplastic materials to produce benches, frames and household items.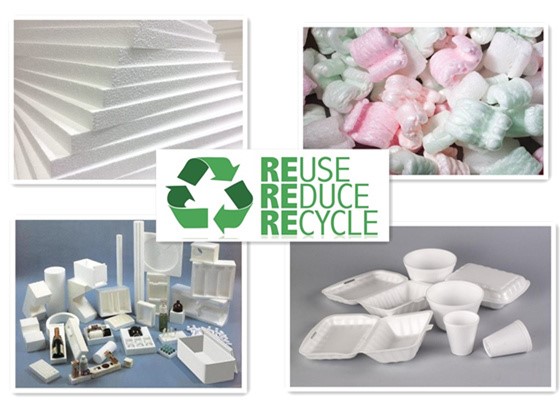 INTCO is an environment-friendly enterprise, has been committed to promoting green, environmentally friendly, healthy life concept, which not only to provide renewable PS recycling machines, but also establish a complete plastic recycling system.
There is a kind of melter machine from GREENMAX can especially deal with the foam polystyrene. This machine can crush these polystyrene first, and then after heating and extruding, it will become the densified ingots, with the volume reduction ratio up to 90:1. Because of it, the melted foam is easy to transport and will have little pollution on the environment.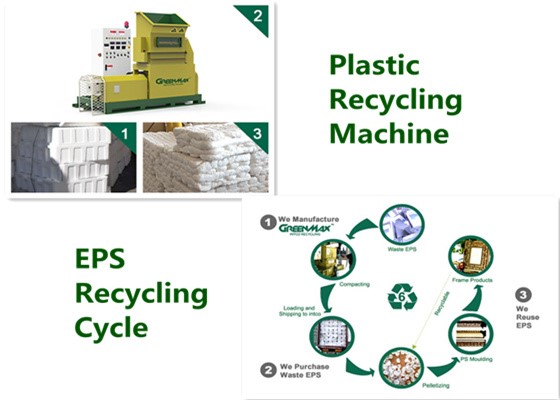 Beacuse INTCO owing to this kind of machine, and them it will provide customers with GREENMAX plastic recycling machine, and then purchase these compressed EPS material for granulation, finaily use these pellets to make environmental protection frames and other indoor and outdoor decoration materials to sold them around the world. Thus it greatly improving the production efficiency and reduce production costs, while saving a lot of forest resources, and has played a positive role in environmental protection.