Greenmax Recycling Was Pleased to Have Participated in POL-ECO-SYSTEM
Our Intco Greenmax Recycling was pleased to have participated in POL-ECO-SYSTEM International Fair of Technology and Products for Sustainable Development and Municipal Services. The Fair brings together the experience of individual projects, which is conrmed by a new formula fully reacting the idea of sustainable development at various levels of ecology. Like in the ecosystem, within the event, knowledge and new technologies occurred to inspire the introduction of innovative solutions in the scope of environmental protection.
Greenmax Recycling exhibition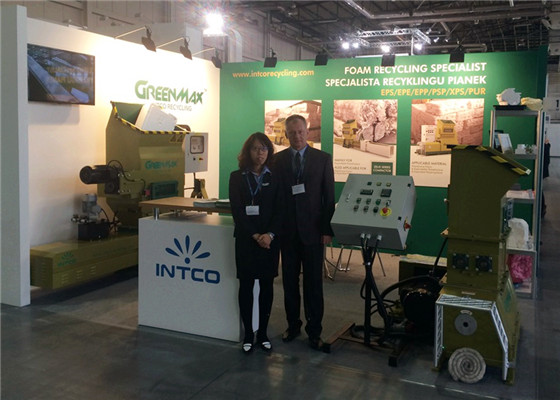 We learned a lot from the POL-ECO-SYSTEM, this is a great chance for our company to show our Greenmax recycling machine--foam densifier and promote our concept to protect global environment.

For example:

1. Reached professionals with our promotional recycling machine – mainly management personnel. Our exhibition ready was very full. The booth was arranged very nicely.
POL-ECO-SYSTEM

2. Increased our chances of acquiring business partners. Our salesman friendly treated with the customers, and made customers feel our hospitality. When the guests asked about the company or greenmax machine, we always gave the correct answer, the conversation was processed in such a harmonious atmosphere.
Poland show

3. Presented our Greenmax recycling company next to leaders in environmental protection, municipal transport and technology, investment, products and services for Poland governments. Our company's image had a very good performance in the fair.
foam recycling specialist

4. Accessed the most advantageous offer on the market in the most modern exhibition infrastructure. And many customers expressed their strong interests to our Styrofoam recycling machine. We also received lots of orders.
Greenmax fair guests

5. Met with representatives of specialist press. After the POL-ECO-SYSTEM, we will improve our service and products to meet the market requirements.