RWM is an Important Platform For GreenMax to Display Our Waste Foam Recycling Machine
2015 UK Bermingham international waste management and recycling of resources in the UK is the largest and most professional waste disposal and recycling exhibition, the exhibition is host by the Emap and the British Association for waste management (CIWM) Co sponsored. It is an important platform for enterprises to display new products, exchange new technologies and test new products. It is a good chance to develop new customers, expand the market and build up the brand of enterprise.
3 days of the show, attracting exhibitors from North America, Britain, Australia and other countries and regions participated in the show. In the three day of the show, a total of more than a professional audience from all of the world visited the exhibition, including 97% of the audience for the company have decision-making power and influence, 71% of the audience in the exhibition site reached a purchase intent. RWM is 2015 Europe's largest international waste treatment and recycling of resources utilization, the UK and Europe market provides a rare opportunity for Intco environmental protection machinery.
2015 RWM Exhibition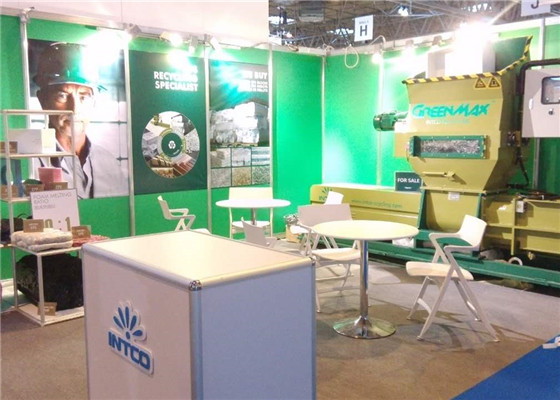 The exhibition of Intco environmental protection machinery business development and corporate development plays a promoting role in many aspects directly:

First, maintain or establish the corporate image of Intco. Our company has expanded the field of vision, open ideas, learn advanced thought, exchange and cooperation, make full use of this opportunity to visit customers and dealers to communicate, communicate, negotiate, to further expand the company's visibility and influence in the industry, but also further understand the characteristics of the advanced enterprise products, so as to better improve their product structure, play their own advantages. The exhibition site, company personnel detailed FAQ for every guest, machines for a live demonstration, and favorable together deeply discussed environmental protection machinery, especially waste styrofoam recycling technology, praised by the majority of exhibitors.

Secondly, increased the understanding of the global environmental protection machinery market. The pace of global economic recycling is accelerating, the market development to further promote the investment of environmental protection industry, environmental protection industry because of its unlimited potential is gradually occupy the market. Especially the exhibition, Greenmax also understand that the development of other enterprises in the same industry, products knowledge. In addition, in the exchange with the guests, we understand the needs and potential of EPS compatcor market.
Green Max Exhibition

Our company participated in the 2015 RWM exhibition, through the exhibition, we have a good harvest, but we also recognize the gap between their own and other well-known manufacturers, we will continue to learn and introduce advanced technology, continuous introduction of outstanding talents, continuous improvement of sales network, clear next step sales ideas, make efforts in the field of environmental protection machinery.