Greenmax Team Will 100% Guarantee The Quality Of Machines
GreenMax machine is a foam compression machine in Intco environmental protection company. Intco Group has two divisions included medical and environmental protection. Intco Environmental Protection Bureau is a leading global supplier of renewable PS plastic solutions. We are committed to renewable, efficient and high quality recycled plastics PS renewable. When we recycled waste, at the same time, we found that many guests do not understand the
polystyrene recycling
process, so our team decided to make a machine for these guests, so that they can more effectively
compacted styrofoam
. GreenMax production teams located in Jiangsu province, have their own production workshop and engineers team. We can provide a variety of models of foam compressor upon request. Our machine parts are the world's top configuration, we use the good domestic steel.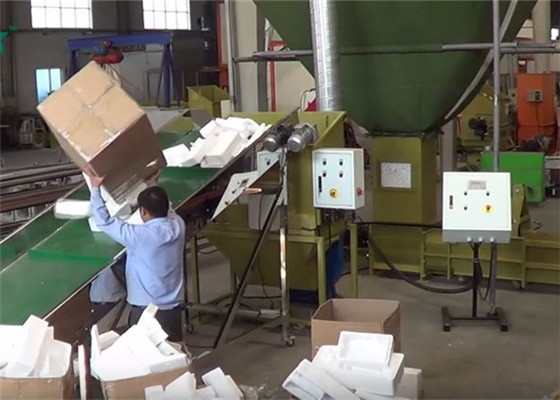 Intco recycling bulk purchased EPS waste in global, and we can keep long-term stability of your scrap procurement, in order to better cooperation with our customers, we also provide a complete eps recycling programs, we can provide compression machine. Using Greenmax machines, you can improve the recycling efficiency, and we can get better and more stable supply. Because end-users of our EPS waste, we use these waste granulated firstly, and then to produce environmentally friendly decorative frame strip, so in order to ensure the efficient use of these wastes, Greenmax team will 100% guarantee the quality of our machines. If you have the idea to expand the amount recycled, we can provide a tailor-made program for you.
Why choose GreenMax:
1. Good quality, are used in various the topest parts.
2. Good price, compared to other European machines and machines of equal quality, the price is cheaper.
3. We have our own factory, has the ability to self-production.
4. We can compressed material from the machine guests, so that they do not have to worry about no market.
5. We have a mature engineers team to meet the guests requirements of the machine.
6. We can handle a lot of materials, and at the same time to meet a variety of materials processing.
7. We have a variety of machines to configure the device to meet the additional needs of the guests, the machines can be tailored to their needs as guests.
8. If guests encounter many problems, we can send a professional team to help guests commissioning
9. We have a lot of worldwide case, guests are assured our quality and reputation.