White Pollution Changes Into Green Frames
"After discarding, waste EPS nor will pollute the environment, we are very optimistic about the development of this industry." EPS Recycling Manager Lucy Shen said, in the late 1990s, the amount of plastic products increased in China began with an annual growth rate of 15%, in 2000, there has been the term " white pollution ". In 2008," plastic limit" formally implemented, caused widespread public concern about plastic pollution in recent years. With the continuous improvement of people's awareness of environmental protection, environmental protection and related industries showed the huge market potential.
In 2008, the company's products GREENMAX recycling machine get attention on the market, it has now become the leader in the field of plastic recycling. Not only has received a number of national patents, expand market size each year.
Turning the ordinary EPS scrap into an environmental PS frames, with what kind of technology?
In INTCO Products Center, we can see the dazzling variety of beautiful frames. Whether appearance, texture or thickness, are ordinary wood-like frame without any distinction.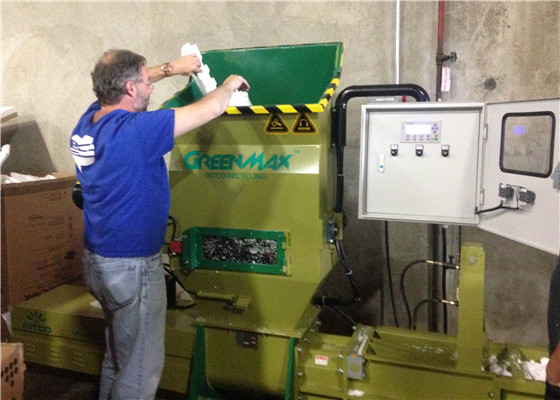 "Their main raw materials are recycled GPPS, is non-degradable plastics in our daily life, but through our special technical modification, waste EPS foam can become beautiful frame." EPS Recycling Manager Lucy Shen explained that the reason why EPS is difficult to degrade, due to its molecular structure. The GREENMAX machine is characterized by high quality, by crushing and compressing, reducing the volume of waste EPS, it is conducive to transport and storage. And this process does not produce any pollution to the environment, but also reduce the production cost of EPS recycler.
Do the domestic foam recycling leader
In INTCO showroom, covered with many INTCO certificate of honor and a plaque authoritative test reports. These also witnessed INTCO GREENMAX explored the road of technological innovation.
"Our products are environmentally friendly high-tech products, domestic and foreign counterparts, although less competitive, but we still understand the importance of scientific research for high-tech industry, so the R & D investment in science and technology are very seriously." Lucy said. Indeed, the company has a team of national co-researcher, senior engineer and professional and technical personnel to protect environment and energy, so that enterprises in the foam recycling industries in the country and the world have a higher market competitiveness.
"Next, we will continue to develop further in the field of plastics recycling, currently polystyrene recycling problem is resolved, and technology some are already mature, but how it reached industrial production scale, increased market awareness, which are issues facing our future. "as a biodegradable environmentally friendly products business, INTCO will make due contributions to beautify the urban environment, eliminate white pollution.